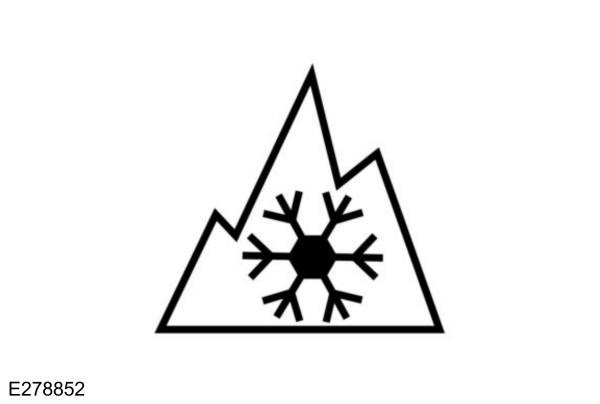 We recommend that you use winter or all-season tires carrying this symbol when the temperature is 7 °C (45 °F) or lower, or in snow and ice conditions.
Inflate the winter tires to the same tire pressures as those listed in the tire pressures table.

  WARNING:  Snow tires must be the same size, load index and speed rating as those originally provided by Ford. Use of any tire or wheel not recommended by Ford can affect the safety and performance of your vehicle, which could result in an increased risk of loss of control, vehicle rollover, personal injury and death. Additionally, the use of non-recommended tires and wheels can cause steering, suspension, axle, transfer case or power transfer unit failure. Follow the Ford recommended tire inflation pressure found on the Safety Compliance Certification Label (on the door hinge pillar, door latch post or the door edge that meets the door latch post, next to the driver seat), or Tire Label on the B-Pillar or the edge of the driver door. Failure to follow the tire pressure recommendations can cause uneven treadwear patterns and adversely affect the way your vehicle handles.