WARNING:  Driving while distracted can result in loss of vehicle control, crash and injury. We strongly recommend that you use extreme caution when using any device that may take your focus off the road. Your primary responsibility is the safe operation of your vehicle. We recommend against the use of any hand-held device while driving and encourage the use of voice-operated systems when possible. Make sure you are aware of all applicable local laws that may affect the use of electronic devices while driving.
You can control various systems on your vehicle using the information display controls on the steering wheel.The information display shows the corresponding information.
Information Display Controls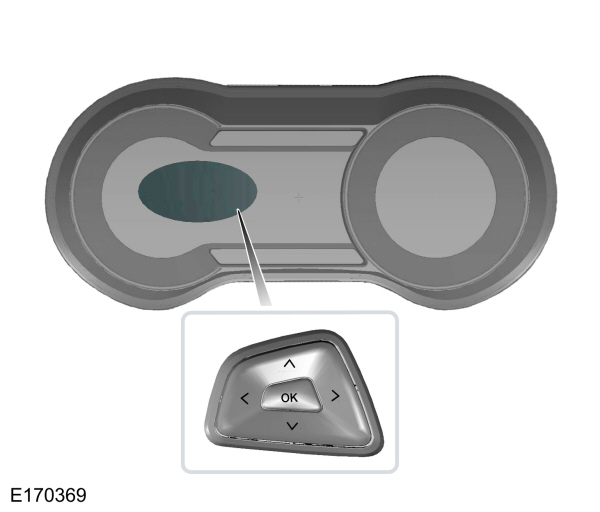 Press the up and down arrow buttons to scroll through and highlight the options within a menu.
Press the right arrow button to enter a sub-menu.
Press the left arrow button to exit a menu.
Press and hold the left arrow button at any time to return to the main menu display (escape button).
Press the

OK

button to choose and confirm settings or messages.

  This icon gives you the ability to switch a feature on or off. A check in the box indicates the feature is enabled, and unchecked indicates the feature is disabled.
Trip 1 & 2
Choose between the standard or enhanced trip display.
Note:  
Some items are optional and may not appear.
Trip 1 & 2  
Distance to E  
Normal or Towing  
Average fuel economy  
Trip timer  
Press and hold

OK

to reset the currently displayed trip information.  
Trip odometer — shows the accumulated trip distance.
Trip Timer— when you switch your vehicle off the timer stops and then restarts when you restart your vehicle.
Average fuel economy — shows the average fuel economy for a given trip.
Fuel Economy
Use the left or right arrow buttons to choose the desired fuel economy display.
Fuel Economy
Instantaneous Fuel Economy  
Auto StartStop
Instantaneous Fuel Economy: This display shows a visual graph of your instantaneous fuel economy.
Auto StartStop - Available Auto Start-Stop messaging will provide details about what is happening with your system.   See   Information Messages. 
Driver Assist
Use the up or down arrow buttons to choose between the following display options.
Driver Assist

Traction Control

Blindspot

Collision Warning

Sensitivity

Cross Traffic

Cruise Control

Adaptive or Normal  

Driver Alert

On or Display  

Intelligent AWD

Lane Keeping Sys

Mode

Intensity

Front Park Aid

Rear Park Aid

Tire Monitor

Tire Pressure on demand screen  
Settings
In this mode, you can configure different driver setting choices.
Note:  
Some items are optional and may not appear.
Note:  
Some MyKey items will only appear if a MyKey is set.
Settings

Vehicle

Drive Control

DTE Calculation

Easy Entry/Exit

Auto Engine Off

Lighting

Locks

Mirror

Oil Life

Power Liftgate

Enable or Disable  

Remote Start

 

Windows

Wipers

MyKey

Create MyKey

911 Assist

Do Not Disturb

Traction Control

Max Speed

Speed Minder

Volume Limiter

Clear MyKeys

Display

Distance Unit

Temperature Unit

Tire Pressure

Language

Speedo in km/h