WARNING:  Do not leave children unattended in your vehicle and do not let them play with the moonroof. Failure to follow this instruction could result in personal injury.


  WARNING:  When closing the moonroof, verify that it is free of obstruction and make sure that children and pets are not in the proximity of the roof opening.
The moonroof controls are located on the overhead console and have a one-touch open and close feature. To stop its movement during one-touch operation, press the control a second time.
Opening and Closing the Moonroof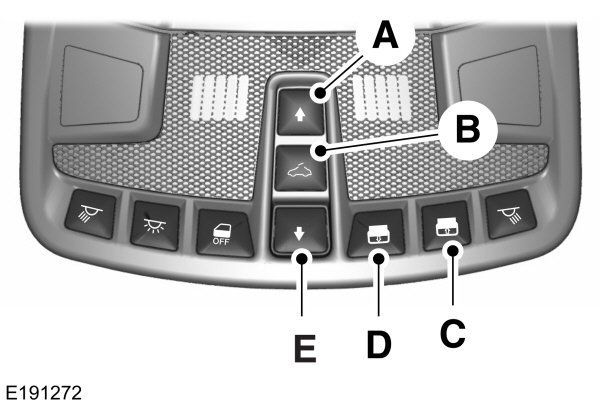 A

Moonroof open. Press and release to open the moonroof. The moonroof stops short of the fully opened position. Press and release the control again to open the moonroof fully.
B

Moonroof vent. Press and release to vent the moonroof.
C

Sunshade open. Press and release to open the sunshade. The sunshade opens automatically with the moonroof. You can also open the sunshade with the moonroof closed.
D

Sunshade close. Press and release to close the sunshade.
E

Moonroof close. Press and release to close the moonroof from either the open or vent positions.

Note:  
The moonroof stops 8 in (200 mm) from the closed position. To close the moonroof, press and hold the moonroof close control until the moonroof is in the fully closed position.