Note:  
Depending on your vehicle options and instrument cluster type, not all of the messages will display or be available. The information display may abbreviate or shorten certain messages.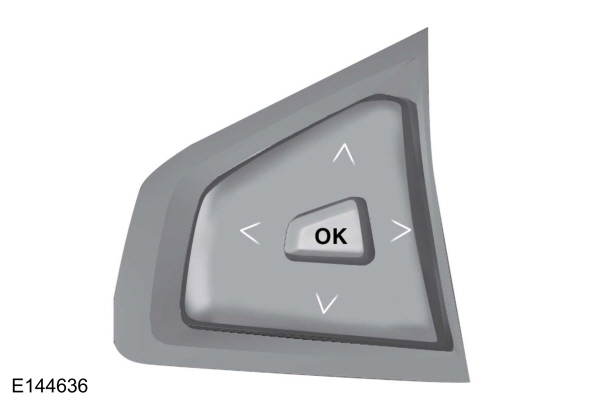 Press the OK button to acknowledge and remove some messages from the information display. The information display will automatically remove other messages after a short time.
You need to confirm certain messages before you can access the menus.
Active Park
| Message   | Action   |
| --- | --- |
| Active Park Fault | The system requires service due to a malfunction. Contact an authorized dealer.   |
Adaptive Cruise Control
Airbag
| Message   | Action   |
| --- | --- |
| Occupant Sensor BLOCKED Remove Objects Near Passenger Seat | The system detects a malfunction due to a blocked sensor. Remove blockage.   |
Alarm
| Message   | Action   |
| --- | --- |
| Vehicle Alarm To Stop Alarm, Start Vehicle. | Alarm triggered due to unauthorized entry.   See   Anti-Theft Alarm.    |
| Alarm malfunction Service req'd | The system requires service due to a malfunction. Contact an authorized dealer.   |
All-Wheel Drive
| Message   | Action   |
| --- | --- |
| AWD Temporarily Disabled | The all-wheel drive system temporarily turns off to protect itself from overheating.   |
| AWD OFF | The all-wheel drive system temporarily turns off to protect itself from overheating or if you are using the temporary spare tire.   |
| AWD Restored | The all-wheel drive system will resume normal function and clear this message after driving a short distance with the road tire re-installed or after the system cools.   |
| AWD Malfunction Service Required | The all-wheel drive system is not operating properly. If the warning stays on or continues to come on, contact an authorized dealer.   |
Automatic Engine Shutdown
| Message   | Action   |
| --- | --- |
| Engine Shuts Off In {seconds to shut off:#0} Seconds | The engine is getting ready to shut off.   |
| Engine Shut Off For Fuel Economy | The engine has shut off to help increase fuel economy.   |
| Engine Shuts Off in {seconds to shut off:#0} Seconds Press Ok to Override | The engine is getting ready to shut off. You can press OK on the left steering wheel button to override the shut down.   |
Automatic High Beam Control
| Message   | Action   |
| --- | --- |
| Front Camera Low Visibility Clean Screen | The front camera sensor has reduced visibility.Clean the windshield.   |
| Front Camera Malfunction Service Required | The system requires service due to a malfunction. Contact an authorized dealer.   |
| Front Camera Temporarily Not Available | The front camera sensor has malfunctioned.Wait a short period of time for the sensor to cool down.   |
Auto Start-Stop
| Message   | Action   |
| --- | --- |
| Auto StartStop Press Brake to Start Engine | The engine needs to be restarted, press the brake pedal to start.   |
| Auto StartStop Press Brake Harder to Activate | The engine needs to be restarted, press the brake pedal harder to start.   |
| Auto StartStop Press a Pedal to Start Engine | The engine needs to be restarted, press any pedal to start.   |
| Auto StartStop Select Neutral To Start Engine | Select neutral for the system to restart the engine.   |
| Auto StartStop Shift to P, then Restart Engine | Select park for the system to restart the engine.   |
| Auto StartStop Manual Restart Required | The system is not functioning. A manual restart is required.   |
| Auto StartStop Not Available | Conditions are not met for the Auto StartStop system to function properly.   |
Battery and Charging System
| Message   | Action   |
| --- | --- |
| Check Charging System | The charging system needs servicing. If the warning stays on or continues to come on, contact an authorized dealer as soon as possible.   |
| Low Battery Features Temporarily Turned Off | The battery management system detects an extended low-voltage condition. Your vehicle will disable various features to help preserve the battery. Turn off as many of the electrical loads as soon as possible to improve system voltage. If the system voltage has recovered, the disabled features will operate again as normal.   |
| Battery State of Charge Low | The battery management system determines that the 12V battery is at a low state of charge. Start the engine to charge the battery or charge the battery using an aftermarket battery charger. This message clears once you restart your vehicle and the battery state of charge has recovered.   |
| Turn Power Off To Save Battery | The battery management system determines that the battery is at a low state of charge. Turn the ignition off as soon as possible to protect the battery. This message will clear once the vehicle has been started and the battery state of charge has recovered. Turning off unnecessary electrical loads will allow faster battery state-of-charge recovery.   |
Blind Spot Information and Cross Traffic Alert System
| Message   | Action   |
| --- | --- |
| Blindspot System Fault | A fault with the system has occurred. Contact an authorized dealer as soon as possible.   See   Blind Spot Information System.    |
| Blindspot Not Available Sensor Blocked See Manual | The system sensors are blocked.   See   Blind Spot Information System.    |
| Cross Traffic Vehicle Coming From X   | The system detects a vehicle.   |
| Cross Traffic Not Available Sensor Blocked See Manual | The system sensors are blocked.   See   Cross Traffic Alert.    |
| Cross Traffic System Fault | A fault with the system has occurred. Contact an authorized dealer.   See   Cross Traffic Alert.    |
Doors and Locks
| Message   | Action   |
| --- | --- |
| Driver Door Ajar | The door listed is not completely closed.   |
| Passenger Door Ajar | The door listed is not completely closed.   |
| Rear Left Door Ajar | The door listed is not completely closed.   |
| Rear Right Door Ajar | The door listed is not completely closed.   |
| Liftgate Ajar | The door listed is not completely closed.   |
| Hood Ajar | The hood is not completely closed.   |
| Switches Inhibited Security Mode | The system has disabled the door switches.   |
| Factory Keypad Code {X X X X X} | The factory keypad code displays in the information display after system resets the keypad.   See   Keyless Entry.    |
Driver Alert
| Message   | Action   |
| --- | --- |
| Driver Alert Warning Rest Now | Stop and rest as soon as it is safe to do so.   |
| Driver Alert Warning Rest Suggested | Take a rest soon.   |
Electronic Stability Control
| Message   | Action   |
| --- | --- |
| Service AdvanceTrac | The system detects a malfunction due to a blocked sensor.   |
| AdvanceTrac Off | The traction control system status.   |
| AdvanceTrac On | The traction control system status.   |
| AdvanceTrac SPORT MODE | The traction control system status.   |
Engine
| Message   | Action   |
| --- | --- |
| High Engine Temperature Stop Safely | Displays when the engine temperature is too high.Stop your vehicle in a safe place and allow the engine to cool.If the problem persists, see an authorized dealer.See   Engine Coolant Check.    |
| Engine Fault Service Now | Engine service is required. See an authorized dealer.   |
| Engine Oil Level Low Check Level | Check the engine oil level   See   Engine Oil Check.    |
Fuel
| Message   | Action   |
| --- | --- |
| Fuel Level Low | An early reminder of a low fuel condition.   |
| Check Fuel Fill Inlet | The fuel fill inlet may not be properly closed.   |
| Fuel Door Opening | Wait for up to 15 seconds while the fuel system depressurizes.   |
| Fuel Door Open | The fuel system has finished depressurizing and you can begin to refuel.   |
| Close Fuel Door | A reminder to close the fuel door.   |
Hill Start Assist
| Message   | Action   |
| --- | --- |
| Hill Start Assist Not Available | Hill start assist is not available. Contact an authorized dealer.  See   Hill Start Assist.    |
Keys and Keyless Entry
| Message   | Action   |
| --- | --- |
| To START Press Brake | A reminder to press the brake while starting the vehicle.   |
| No Key Detected | The system does not detect a key in your vehicle.   See   Keyless Starting.    |
| Restart Now or Key is Needed | You pressed the start/stop button to switch off the engine and your vehicle does not detect your intelligent access key inside your vehicle.   |
| Run Power Active   | Your vehicle is in the run ignition state.   |
| Starting System Fault | There is a problem with your vehicle's starting system. See an authorized dealer for service.   |
| Key Program Successful | You have successfully programmed an intelligent access key to the system.   |
| Key Program Failure | You have failed to program an intelligent access key to the system.   |
| Max Number of Keys Learned | You have programmed the maximum number of keys to the system.   |
| Not Enough Keys Learned | You have not programmed enough keys to the system.   |
| Key Battery Low Replace Soon | The key battery is low. Change the battery as soon as possible.   |
| Engine ON | Informs you that they you are exiting your vehicle and the engine is on.   |
Lane Centering Assist
| Message   | Action   |
| --- | --- |
| Lane Centering Assist Not Available | Displays when the feature is currently unavailable.   |
| For Lane Centering Assist to work Turn On Adaptive Cruise | Displays when you have to switch on adaptive cruise control to use the feature.   |
Lane Keeping System
| Message   | Action   |
| --- | --- |
| Lane Keeping Sys. Malfunction Service Required | The system has malfunctioned. Contact an authorized dealer as soon as possible.   |
| Front Camera Temporarily Not Available | The system has detected a condition that has caused the system to be temporarily unavailable.   |
| Front Camera Low Visibility Clean Screen | The system has detected a condition that requires you to clean the windshield in order for it to operate properly.   |
| Front Camera Malfunction Service Required | The system has malfunctioned. Contact an authorized dealer as soon as possible.   |
| Keep Hands on Steering Wheel | The system requests you to keep your hands on the steering wheel.   |
Maintenance
| Message   | Action   |
| --- | --- |
| Low Engine Oil Pressure | Stop your vehicle as soon as safely possible and turn off the engine. Check the oil level. If the warning stays on or continues to come on with your engine running, contact an authorized dealer.   |
| Change Engine Oil Soon | The engine oil life remaining is 10% or less.   |
| Oil Change Required | The oil life left is at 0%.   |
| Brake Fluid Level Low | The brake fluid level is low, inspected the brake system immediately.   See   Brake Fluid Check.    |
| Check Brake System | The brake system needs servicing.Stop your vehicle in a safe place.Contact an authorized dealer.   |
| Engine Coolant Over Temperature | The engine coolant temperature is excessively high.   |
| Power Reduced to Lower Engine Temp | The engine has reduced power to help reduce high engine temperature.   |
| Transport / Factory Mode   | Your vehicle is still in Transport or Factory mode. This may not allow some features to operate properly. Contact an authorized dealer.   |
| See Manual | The powertrain needs service due to a powertrain malfunction.   |
MyKey
| Message   | Action   |
| --- | --- |
| MyKey not Created | You cannot program a MyKey.   |
| MyKey Active Drive Safely | MyKey is active.   |
| Speed Limited to XX MPH/km/h   | When switching on your vehicle and MyKey is in use, displays that the MyKey speed limit is on.   |
| Near Vehicle Top Speed | MyKey is in use, the MyKey speed limit is on and your vehicle speed is approaching 80 mph (130 km/h).   |
| Vehicle at Top Speed of MyKey Setting | You have reached the speed limit set for your MyKey.   |
| Check Speed Drive Safely | You have an active MyKey with a programmed set speed limit.   |
| Buckle Up to Unmute Audio | Belt-Minder turns on with a MyKey in use.   |
| AdvanceTrac On - MyKey Setting | With a MyKey in use, AdvanceTrac turns on.   |
| Traction Control On - MyKey Setting | With a MyKey in use, traction control turns on.   |
| MyKey Park Aid Cannot be Deactivated | With a MyKey in use, park aid is always on.   |
| Lane Keeping Alert On MyKey Setting | With a MyKey in use, lane keeping alert turns on.   |
Park Aid
| Message   | Action   |
| --- | --- |
| Check Front Park Aid | The system has detected a condition that requires service. Contact an authorized dealer.   See   Principle of Operation.    |
| Check Rear Park Aid | The system has detected a condition that requires service. Contact an authorized dealer.   See   Principle of Operation.    |
| Front Park Aid On Off | Displays the park aid status.   |
| Rear Park Aid On Off | Displays the park aid status.   |
Park Brake
| Message   | Action   |
| --- | --- |
| Park Brake Engaged | You have set the parking brake and you have driven the vehicle more than 3 mph (5 km/h). If the warning stays on after you have released the parking brake, contact an authorized dealer.   |
| Park Brake Malfunction Service Now | The electric parking brake system has detected a condition that requires service. See an authorized dealer.   |
| Park Brake Not Applied | The electric parking brake is not set.   |
| Park Brake Maintenance Mode | The electric parking brake is running a diagnostic check.   |
| Park Brake Use Switch to Release | The electric parking brake is set but you have not released it.   |
| To Release: Press Brake and Switch | The electric parking brake is set but you have not released it and your vehicle is moving.   |
| Park Brake Limited Function Service Required | The electric park brake system has detected a condition that requires service. See an authorized dealer.   |
| Park Brake System Overheated | You have not released the electric parking brake causing it to overheat.   |
| Park Brake Not Released | The electric parking brake is set and you have started your vehicle.   |
| Park Brake Applied | The electric parking brake is set.   |
| Park Brake Released | You have released the electric parking brake.   |
Power Steering
| Message   | Action   |
| --- | --- |
| Steering Lock Malfunction Service Now | The power steering system has detected a condition that requires service. See an authorized dealer.   |
| Steering Loss Stop Safely | The power steering system is not working.Stop your vehicle in a safe place.Contact an authorized dealer.   |
| Steering Assist Fault Service Required | The power steering system has detected a condition within the power steering system or passive entry or passive start system requires service. Contact an authorized dealer.   |
Pre-Collision Warning System
| Message   | Action   |
| --- | --- |
| Collision Warning Malfunction | A fault with the system has occurred. Contact an authorized dealer.   |
| Collision Warning Not Available Sensor Blocked See Manual | You have a blocked sensor due to bad weather, ice, mud or water in front of the radar sensor. You can typically clean the sensor to resolve.   See   Pre-Collision Assist.    |
| Collision Warning Not Available | A fault with the system has occurred. Contact an authorized dealer.   |
Remote Start
| Message   | Action   |
| --- | --- |
| To Drive: Press Brake and Gear Shift Button | A reminder to apply the brake and push the gearshift button to drive your vehicle after a remote start.   |
Seats
| Message   | Action   |
| --- | --- |
| Memory Recall Not Permitted While Driving | A reminder that memory seats are not available while driving.   |
| Memory {0} Saved | Shows where you have saved your memory setting.   |
Starting System
| Message   | Action   |
| --- | --- |
| To START Press Brake | A reminder to apply the brake when starting your vehicle .   |
| Cranking Time Exceeded | The starter has exceeded its cranking time in attempting to start your vehicle.   |
| Engine Start Pending Please Wait | The starter is attempting to start your vehicle.   |
| Pending Start Cancelled | The system has cancelled the pending start.   |
Tire Pressure Monitoring System
| Message   | Action   |
| --- | --- |
| Tire Pressure Low | One or more tires on your vehicle has low tire pressure.   See   Tire Pressure Monitoring System.    |
| Tire Pressure Monitor Fault | The tire pressure monitoring system is malfunctioning. If the warning stays on or continues to come on, contact an authorized dealer.   See   Tire Pressure Monitoring System.    |
| Tire Pressure Sensor Fault | A tire pressure sensor is malfunctioning or your spare tire is in use.   See   Tire Pressure Monitoring System.  If the warning stays on or continues to come on, contact an authorized dealer.   |
Towing
| Message   | Action   |
| --- | --- |
| Trailer Sway Reduce Speed | Your trailer sway control has detected trailer sway so you need to reduce your speed.   |
Traction Control
Transmission
| Message   | Action   |
| --- | --- |
| Transmission Malfunction Service Now | See an authorized dealer.   |
| Transmission Over Temperature Stop Safely | The transmission is overheating and needs to cool.Stop in a safe place as soon as possible.   |
| Transmission Overheating Stop Safely | The transmission has overheated and needs to cool. Stop in a safe place as soon as possible.   |
| Transmission Service Required | See an authorized dealer.   |
| Transmission Too Hot Press Brake | The transmission is getting hot. Stop to let it cool.   |
| Transmission Limited Function See Manual | The transmission has limited functionality.See an authorized dealer.   |
| Transmission Warming Up Please Wait | The transmission is too cold. Wait for it to warm up before you drive.   |
| Transmission Not in Park | A reminder to shift into park.   |
| Press Brake Pedal | A request for you to apply the brake as needed by the transmission.   |
| Transmission Adjusted | The transmission has adjusted the shift strategy.   |
| Transmission AdaptMode | The transmission is adjusting the shift strategy.   |
| Transmission IndicatMode Lockup On | The transmission is locked and unable to select gears.   |
| Transmission IndicatMode Lockup Off | The transmission is unlocked and free to select gears.   |
| Park Will Engage at Low Speed | Displays when your vehicle prepares to shift to park when you reach a certain speed.   |
| Stay in Neutral Mode Press Brake to Unlock Shifter | Press the Brake pedal to select other gears.   |
| Select S to confirm Stay in Neutral Mode | Press S to confirm Stay in Neutral mode   |
| Sport Not Available in Selected Gear | Displays when your vehicle cannot shift to sport (S) in the current gear.   |
| Invalid Gear Selection | Displays when you select an invalid gear.   |