WARNING:  When loading the roof racks, we recommend you evenly distribute the load, as well as maintain a low center of gravity. Loaded vehicles, with higher centers of gravity, may handle differently than unloaded vehicles. Take extra precautions, such as slower speeds and increased stopping distance, when driving a heavily loaded vehicle.
The maximum recommended load, evenly distributed on the crossbars, is:
100 lb (45 kg) for vehicles without a moonroof.
45 lb (20 kg) for vehicles with a moonroof.
Note:  
Never place loads directly on the roof panel.
For correct roof rack system function, you must place loads directly on crossbars affixed to the roof rack side rails. When using the roof rack system, we recommend you use Ford Genuine Accessory crossbars designed specifically for your vehicle.
Make sure that you securely fasten the load. Check the tightness of the load before driving and at each fuel stop.
Adjusting the Crossbar (If Equipped)
Note:  
For less wind noise and better aerodynamics, only install the crossbars when you need them for carrying cargo. If you prefer to keep the crossbars installed, the front crossbar has two positions. The front position is quieter for wind noise. The rear position may help to reduce wind noise from an open moonroof. Follow the steps to reposition or remove the front crossbar. You can remove the rear crossbar fasteners by unscrewing the assembly.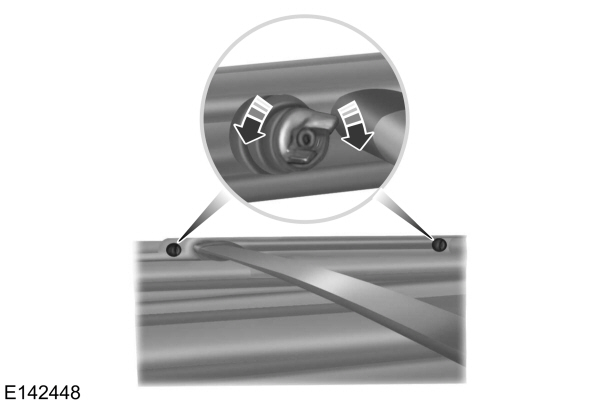 Remove the crossbar thumbwheels at both sides of the front crossbar by turning them counterclockwise.
Note:  
If you cannot loosen the thumbwheel with your hand, loosen the fastener head. You can also use a small screwdriver or similar tool to loosen the thumbwheel by inserting the shaft between the two paddles of the thumbwheel and rotating it loose.
Remove the crossbar by sliding the ends off of the shoulder bolts in the side rails.
Move the crossbar to the new side rail position and slide the crossbar onto the shoulder bolt at that position.
Replace and tighten the thumbwheels at both sides of the crossbar by turning them clockwise until tight. You can use a small screwdriver or similar tool to tighten if necessary.
Make sure to check that the thumbwheels are tight each time you add or remove load from the roof rack, and periodically while traveling. Make sure that the load is secure before traveling.