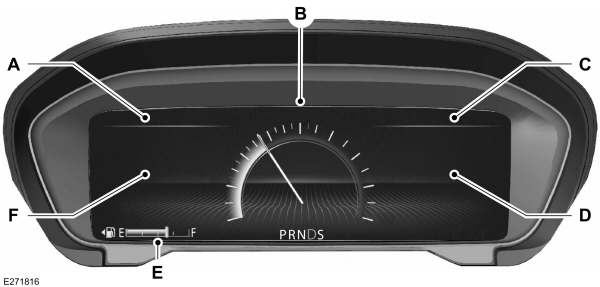 A

Audio Status Bar.
B

Speedometer.
C

Time and Temperature Status Bar.
D

Right Information Group.
E

Fuel Gauge.
F

Left Information Group.

Audio Status Bar
Displays information related to the current audio source.
Time and Temperature Status Bar
Displays time, temperature and navigation related information.
Left/Right Information Group
Information that appears in the left and right information group varies depending on current gauge, on-demand and HUD (if equipped) settings.   See  
General Information
. 
Fuel Gauge
The fuel gauge indicates about how much fuel is in the fuel tank.
The arrow adjacent to the fuel pump symbol indicates on which side of your vehicle the fuel filler door is located.
Note:  
The fuel gauge may vary slightly when your vehicle is moving or on a slope.
Low Fuel Reminder
A low fuel level reminder displays and sounds when the distance to empty reaches 75 mi (120 km) for MyKey, and at 50 mi (80 km), 25 mi (40 km), 10 mi (20 km) and  mi (0 km) for all vehicle keys.
Note:  
The low fuel reminder can appear at different fuel gauge positions depending on fuel economy conditions. This variation is normal.