WARNING:  Driving while distracted can result in loss of vehicle control, crash and injury. We strongly recommend that you use extreme caution when using any device that may take your focus off the road. Your primary responsibility is the safe operation of your vehicle. We recommend against the use of any hand-held device while driving and encourage the use of voice-operated systems when possible. Make sure you are aware of all applicable local laws that may affect the use of electronic devices while driving.
Note:  
Some items could appear slightly different or not at all if the features are optional.
Information Display Controls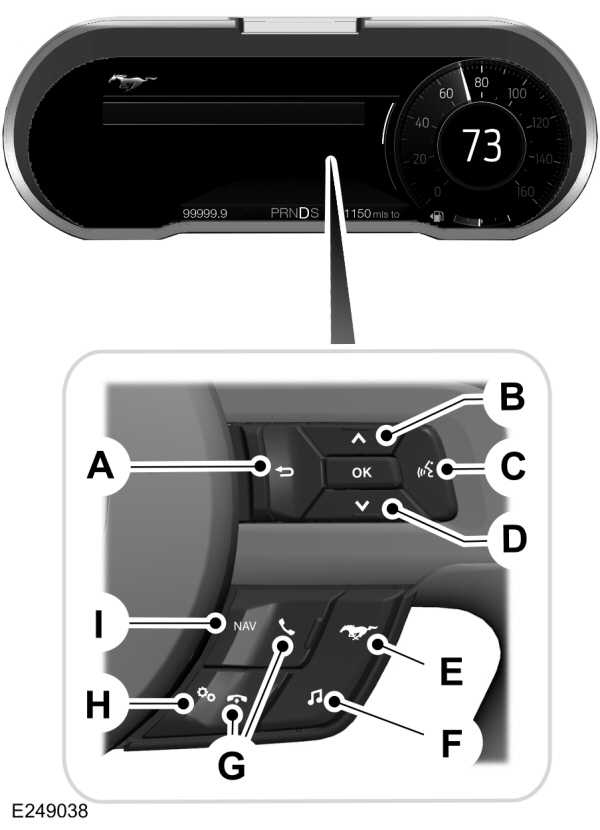 A

Back button.
B

Arrow up.
C

Voice control button.
D

Arrow down.
E

Pony button.
F

Audio button.
G

Phone buttons.
H

Settings button.
I

Navigation button.

Press one of the quick action menu buttons to enter a menu.
Toggle (B) and (D) to scroll through and highlight the options within a menu.
Press the

OK

button.
Press (A) to exit a menu.
Press the open menu's quick action menu button at any time to close the menu.
Press the

OK

button to choose and confirm settings or messages.
Settings
Settings

Trip/Fuel Info

Driver Assist

Auto Engine Off

Blindspot

Pre-Collision Assist

Cross Traffic Alert

Cruise Control

Driver Alert

Hill Start Assist

Rear Park Aid

Lane Keeping System

Tire Monitor

 

Wipers

Speedometer MPH

Speedometer km/h

Advanced Settings

Vehicle

MyKey

Display Setup
Pony

  WARNING: 

Track Apps™

is for track use only. Remember that even advanced technology cannot defy the laws of physics. It is always possible to lose control of a vehicle due to inappropriate driver input for the conditions. Aggressive driving on any road condition can cause you to lose control of your vehicle increasing the risk of personal injury or property damage.
Track Apps™ provides a suite of options to record and optimize your track performances.   See  
Track Use - Mach 1
. 
Pony

MyMode

Show Status

Add MyMode

MyMode must be configured and saved before selection enabled.  

Exhaust Mode

Choose your applicable setting.1  

Quiet Start

Track Apps

Acceleration Timer

Brake Performance

Line Lock

Lap Timer

Start Option

Performance Shift Indicator

Shift Point

Shift Tone

Shift Light Mode

Launch Control

Launch Control

RPM

Rev Match  

Gauges

Show Gauges

Configure MyGauges

MyColor

Primary Color

Secondary Color

Ambient Light

Create MyColor

Cluster Appearance

Change with Drive Mode

Normal

Sport

Track
Note:  
Quiet start allows you to schedule when the exhaust mode turns on the quiet setting. The time window can be from 1 to 24 hours.
Note:  
Depending on your vehicle configuration, some features such as Exhaust Mode and Line Lock may be if equipped.
Note:  
The menu options for Performance Shift Indicator, Launch Control, and Rev Match are for manual transmissions only.
Phone
Audio
Navigation
Configure MyGauges
When configuring your gauges you can select to display up to three virtual gauges.

A

Inlet air temperature.
B

Battery voltage.
C

Air fuel ratio.
D

Vacuum.
E

Cylinder head temperature.
F

Transmission oil temperature.
G

Axle temperature.
H

Engine oil pressure.