WARNING:  Do not dispose of fuel in the household refuse or the public sewage system. Use an authorized waste disposal facility.
Note:  
Only add fuel that meets Ford's specifications.   See   Fuel Quality. 
Note:  
The in-tank pump turns off after approximately 40 seconds.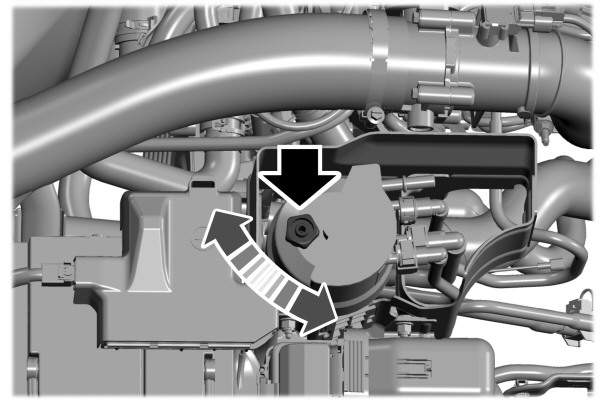 A

Front of Vehicle.

Switch the ignition off.
Attach a tube to the hole on top of the drain plug and place the end of the tube into a suitable container.
Switch the ignition on to activate the in-tank pump.
Loosen the drain plug until liquid starts flowing. Use a suitable tool to unscrew the plug.
Allow the water to drain.
Switch the ignition off.
Tighten the drain plug until you feel a strong resistance.
Remove the tube from the drain plug.
Start the engine.
Check for leaks.
Note:  
The water-in-fuel indicator lamp will go out after approximately two seconds, with the engine running.
Remark: For additional information and assistance, contact an authorized dealer.